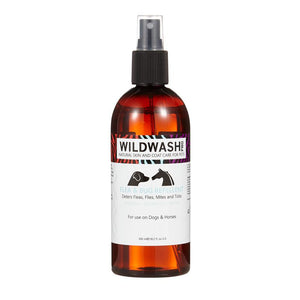 WILDWASH PRO FLEA & BUG REPELLENT FOR DOGS AND HORSES 300ML
-with Peppermint and Lavender
At WildWash, all of our professional groomers love our pets and our planet. That's why we used our 15 years of grooming experience to develop a range of natural pH balanced pet grooming products that are brilliantly effective and kind to our pets' skin and coat.
Our natural products are used on all breeds of dogs, cats and horses every day and give incredible results. Trusted by groomers, vets and pet owners worldwide, your pets will love you for it!!
All our natural WildWash products contain No Parabens, No Phthlates, No Phosphates, No Petrochemicals, No Sulphates, No Palm Oils and No PEGs. We use 100% Pure Essential Oils. We guarantee there is No Animal Testing on any of our products, nor on any of the ingredients they contain. All our products are Made In England.
For this product WildWash have chosen ingredients from four continents that have been selected as the most effective insect repelling botanicals in their country of origin. By combining these together, WildWash have created an effective natural Flea and Bug Repellent for dogs and horses. The revolutionary blend of plants and herbs uses ingredients such as Peppermint and Lavender which work together to help deter fleas, flies, mites and ticks.
All of our products now carry the Cruelty Free International Leaping Bunny logo and Ethical Certification.
Directions for Use:
Apply freely to skin and coat to deter fleas, flies, mites, ticks and mosquitoes. Use as often as necessary. Avoid contact with eyes.