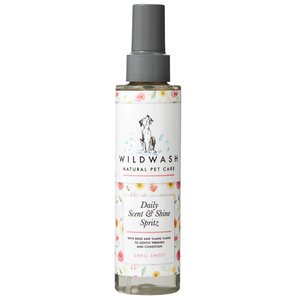 WILDWASH PET SMELL SWEET SPRITZ 150ML
-with Magnolia and Ylang Ylang
WildWash Pet is a range of natural pet cosmetics, containing No Parabens, No Phosphates, No Sulphates, No Phthalates, No Petrochemicals and No PEGs. Quick rinsing and kind to their skin, your pets will love you for it.

We're a family business and the future of the planet is of great importance to us. We're delighted our bottle is made from 100% recycled plastic and the lids from at least 50% recycled plastic.

A scent and shine spritz to help combat odour and condition the coat with Magnolia and Ylang Ylang.
As our apothecary is top 10 in the world for natural fragrances, we have made a beautiful scent and shine spritz for use in between or after baths to freshen and shine the coat and condition the skin. We only use 100% pure essential oils to make our fragrances and therefore our products contain no petrochemicals and can be used as often as needed.

All of our products now carry the Cruelty Free International Leaping Bunny logo and Ethical Certification.

Directions for Use:
Spray directly on to a dry coat, avoiding the eyes to give a wonderful, lasting fragrance.