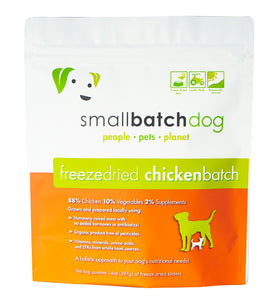 SMALLBATCH FREEZE DRIED CHICKEN SLIDERS
BUY 4 FOR $188 - Discount automatically applied at checkout
Freeze Dried Chicken Sliders
88% chicken, 10% produce, 2% supplements
Ingredients:
chicken, chicken backs, skinless chicken necks, chicken livers, chicken hearts, chicken gizzards, organic yams, organic carrots, organic squash, organic broccoli, salmon oil, organic apple cidar vinegar, organic kale, organic collards, mixed tocopherols, organic kelp, organic parsley, organic bee pollen, organic wheat grass, organic bilberry, organic garlic, organic rosemary, organic basil, vitamin E supplement
​Guaranteed analysis:
​Moisture (max): 4.9% Crude Protein (min): 57.3% Crude Fat (min): 25.1% Crude Fiber (max): 1.4% Ash (max): 8.6%
Calorie Content:
​ME (calculated metabolized energy) 4,250 kcal/kg (39.6 kcal per slider)
​Available only in 14oz
*estimated 50 sliders per pack*
Preparation:
1) Prepare Your Portion - Measure or count out your pet's serving size
TIP: Sliders are best crushed!
2) Add Water - Stir well allow to rehydrate
(mix 1/2 cup of warm water for every 4 sliders)  
TIP: Crush with a fork for faster rehydration!
3) Serve – Feed in a dish, and see the good it can do!
Feeding Guidelines
It is suggested that you feed your pet between 2-3% of their body weight. Feed them 2% if they need to lose weight or 3% if they are in good shape. For puppies, nursing mothers, or if they endure rigorous activity and exercise, feed them 4-5% of their body weight.
*Please keep in mind that these are just recommendations. Things to consider are, level of activity, age, health, metabolism etc. These all play a part in the necessary feeding quantities of your pet. We suggest you monitor your pet's dietary needs and adjust portions accordingly.
For Adult dogs 
5lbs.    |  2 sliders a day
10lbs.  |  4 sliders a day
15lbs.  |  6 sliders a day
20lbs.  |  8 sliders a day
40lbs.  | 16 sliders a day
60lbs.  | 24 sliders a day
80lbs.  | 32 sliders a day
100lbs.| 40 sliders a day
For Nursing, pregnant dogs or puppies
5lbs.    |  4 sliders a day
10lbs.  |  8 sliders a day
15lbs.  |  12 sliders a day
20lbs.  |  16 sliders a day 
40lbs.   | 32 sliders a day
60lbs.   | 48 sliders a day
80lbs.   | 64 sliders a day
100lbs. | 80 sliders a day