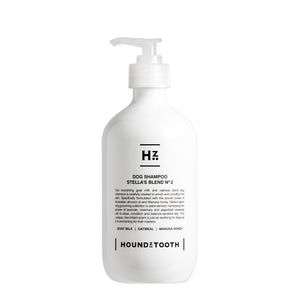 HOUNDZTOOTH STELLA'S BLEND NO.2 DOG SHAMPOO FOR ITCHY SKIN 500ml
GOAT MILK | OATMEAL | MANUKA HONEY

Our nourishing goat milk and oatmeal blend dog shampoo is carefully created to enrich and condition the skin. Specifically formulated with the proven power of Australian almond oil and Manuka honey. Stella's blend dog grooming collection is naturally-derived, harnessing the power of lavender, rosemary, and paperbark essential oils to clean, condition, and balance sensitive skin. This unique, non-irritant scent is just as soothing for dogs as it is enchanting for their masters.

Our Ode to Stella
Love, luxe, and lustre
Lather up glamorous coats
To shine like Stella
Product Benefits
Specifically formulated for dog's with sensitive skin.
Goat milk is rich in essential fatty acids and triglycerides. It contains lactic acid, which is an alpha hydroxy acid (AHA) that assists to gently slough off dead skin cells and brings new cells to the surface which helps to hydrate and brighten your dog's skin.  It also acts as a natural exfoliant, which helps to keep your dog's skin prone to allergies, irritation, redness or dryness, soft and supple.
Manuka honey essential oil is attributed to its properties as an anti-dandruff, antidote to insect bites and stings, antibacterial, anti-fungal, anti-inflammatory, anti-histaminic, anti-allergenic.
Due to its anti-inflammatory properties, Manuka honey reduces redness and heals congested or inflamed skin and eczema. Additionally, Manuka oxygenates pores to draw out bacteria.
Stella's blend harnesses the power of lavender, rosemary, and paperbark essential oils to clean, condition, and balance sensitive skin. 
Specifically formulated using only the highest quality naturally-derived ingredients.
Proudly made in Melbourne, Australia. 
Ingredients & Aroma
Goat milk
Grooming Tips
Recommended for short, double, wire and broken coats.
Recommended for dry, flaky & itchy skin.  De-shedding. White & dull coats. Greasy & wiry coats. Fleas & insects.
Dosage & Directions
Simple Ingredients. Simple Directions.
Wet coat thoroughly. Apply shampoo to the palm of your hand and work throughout your dog's coat.  Rinse thoroughly.  Towel dry.  For best results, shampoo twice and follow with Houndztooth Stella's Blend No. 2 Conditioning & Deodorising Spray.
Oatmeal
Honey
Aroma of Manuka honey, lavender, rosemary and paperbark essential oils.
Ingredients: Aloe Barbadensis (Aloe) naturally-derived surfactants, Goat Milk, Lavandula Angustifolia (Lavender) Flower Oil, Prunus Amygdalus (Almond) Oil, Rosmarinus Officinalis (Rosemary) Leaf Oil, Citrus Limon (Lemon) Peel Oil, Titanium Dioxide, Citric Acid, Australian botanicals & essential oils.
No SLS or EDTA
Palm Oil & Paraben Free
No Artificial Colours
No Harsh Ingredients